From: Raspberry Pi
Willem, from The Secret Batcave in South London, is piqued with irritation by the Shard, which interrupts his view from pretty much everywhere he looks. The Shard, for non-Brits and for those Brits who have been living…in a cave, is 95 storeys of incongruous Qatari-owned phallomorphism designed by the guy behind the Pompidou Centre in Paris. It's the tallest building in the EU, at 309.6 metres. It's out of place, madly disproportionate, looms over the city like a great big monument to stupid domineering excess, dwarfs the Wren churches of the City of London and even the converted power station that houses the Tate gallery, and was described by John Prescott as being of "the highest architectural quality," which really tells you all you need to know.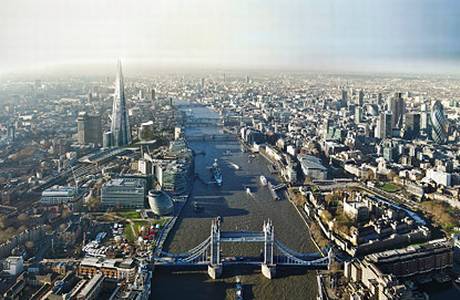 I do not like the Shard. I'm not a Luddite; I say this as a person with a great fondness for the Erotic Gherkin and the Spiral extension of the V&A that never got built. London's a living city, and new buildings are part of its evolution. But good architecture has something to say; all the Shard has to say is "Whee! I'm bigger than you!", while trying to stab you in the eye. (And trying to get you to fork over £25 to go to the top to have a look out of the window. It's a Tourist Attraction, you see.)
At least I don't live in London, though. Unlike poor Willem, who has to look at the damn thing every day.
But Willem has realised that his rage can be assuaged with a little dose of sour grapes, and that information is beautiful even if the Shard isn't, so he's hooked a Raspberry Pi up to a camera pointing at the thing to remind himself that life at the top of the Shard isn't always a light-bathed soak in other people's views.
I live in South London, which means that the everywhere I look the Shard stands over me. Now its reported that a flat in this tower of Babel will cost north of £30 million quid. Lets hope the lifts work.

 

This wonderful splash of cash got me thinking, basically you buy this flat for the view. Now living in Britain as I do, I know that the weather is not really designed for long distant views. This got me thinking; if its grey and raining for a day, how much does it cost? Quite a lot as it turns out:

 

£30,000000 / (365 *10) = £8230 a day.

 

That's right, rain costs eight grand a day.

 

Lets just go over those figures a little. We assume a flat costs £30 million, The Telegraph claims its up to £50M, however the estate agents seem to differ and peg it at around £20M. I'll do what economists do and guess a number and swear its based on an accurate model. Likewise I assume that the average nouveau riche nonce will keep the flat for about ten years (I assume they'll either die in a car crash, coke overdose, or have to sell it to fund an expensive vice of some sort).

 

If we plug those numbers into my proprietary financial model algorithm, we see that £30M spread over ten years equates to £8230 a day (with rounding). I also assume that you buy this type of flat for the view. Dividing it further, each rainy hour costs around £342. It's even higher if you don't count the night time.

 

So why do I need a webcam? Well I want to find out how often the shard is obscured by rain, and therefore how much money has been eaten by the British weather and then laugh at the ****s who splashed so much cash. 
You can read more about why Willem put this cam together and how he did it on his website. He's also made his timelapse software available, and explains how he quantifies "cloudiness" using the cam's output.
The data the Pi receives is sent to a simple little website called What Can I See From the Shard. Here's a screengrab: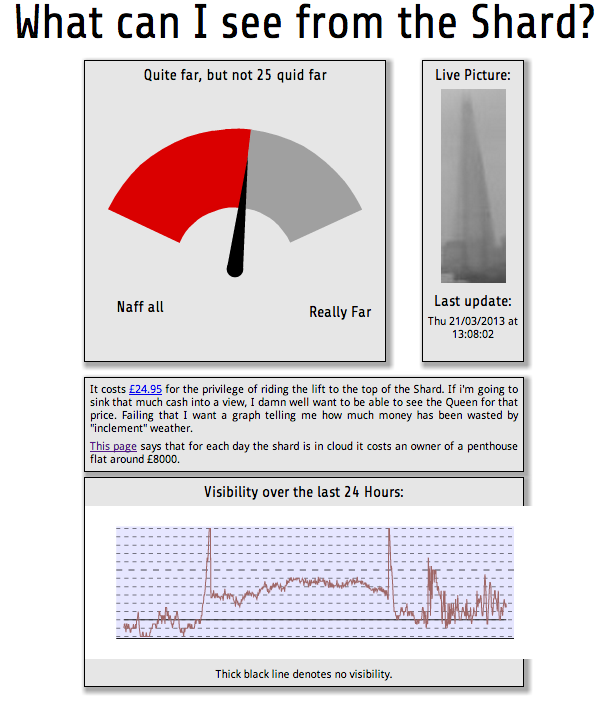 Thank you, Willem. Your bitterness serves us all.